5 ways fat people can start running to lose weight
1. Walk First, Run Later
Running can be overwhelming and hard. No doubts about that. But I have good news . If you're totally out-of-shape or haven't done much exercise in the last years, running from the get go isn't the best choice yet. Instead you should opt for a walk-run-walk (W-R-W) program to progressively ease your body into the training.
The W-R-W program has many benefits. It can help you build stamina, increase cardiovascular power, burn fat , and so on. All this while staying clear of injury and burnout. This program is designed to help you incrementally build enough cardiovascular power to run without serious health problems.
Here is how to do it:
Start off your training session with a 5 minute brisk walk as a warm-up. After the warm-up, run straight and at an easy pace for 30-45 seconds. Then, take a walk break for one minute or more. The break helps you recover from the running. And when you feel ready, go for another 30-45 seconds interval run. Repeat the pattern 4-5 times.
And as you get fitter and stronger, you should lengthen the running and shorten up the walking. The rule is to increase gradually while staying within your skill level. If you ignore this rule, then you're just looking for injury and disappointment. And no one wants that.
For you to successes with your running program—or any other exercise—your body and mind need to be in sync. You can' get consistent with your training if your beliefs are holding you back, at the same time, mere mental rehearsal wont get you any where. Therefore, the key to success is to take action even if you're not sure 100%. Speed of implementation is everything.
2. Check Your Pulse
Most beginner runners are obsessed with monitoring their weights that they totally forget to check their heart rates. In fact many are ignorants of the importance of the heart rate as a measure for healthy performance and overtraining.
See, running is cardiovascular activity per excellence. It trains the heart and pushes it to the limit by pumping blood to your body and working muscles. Therefore, as your cardiovascular power increases, your heart will be able to pump more blood through your body while exerting less effort. So it will require less beats to do the same of work for you. Therefore, expect your normal heart rate to decrease as training progresses forward. This is a sign of improvement.
However, heart rate can be also be a warning sign for trouble. For instance, if after a regular check up, you've found that your heart rate is higher than its normal pace—5 to 10 beats per minute—then this could mean that you're suffering from overtraining. Therefore in that case, you may need to take a day off and check your pulse again the next day and only resume training when it's down to its normal rate.
3. Keep a Running Log
Clarity is the key to success. Being clear usually means knowing what you've done, what you're currently doing and what you're after. A running log can help you keep track of these three elements with ease. You don't have to be confused about your weight loss goals or training schedules. Leave that mental burden to your running log.
On a running log you can keep track of anything you find important and check for progress later on. Here some of the important things you need to keep tags on:
Distance of the runs
Time of the runs
Type of workout on schedule
Body weight goals
Weight loss goals
Before and after pictures
Levels of fatigue
Recovery days
A running log can help you in so many ways. See, you can't improve on what you can't measure. And as you see your mileage gradually increasing and body weight slimming down, your motivation will go through the roof.
4. Stay Motivated
Motivation is key to consistent weight loss running results. If you're struggling to keep up with any training program, the difficulty is usually a motivation problem. Overcoming this problem is not easy task. Therefore, if you want to keep your motivation on the high, you need to do something about it. Here are some tips:
Set small goals and aim to achieve them once at a time
Get a pedometer to keep measure the distances you run
Peer with a friend or family member
Take body measurements and progress pictures. Don't rely on the scale as the sole measuring stick.
Of course, you can't maintain high motivation levels all the time. No one can do that. Nonetheless, having some control over your motivation can help you get the most out of your training program.
5. Believe In Yourself
The first hurdle overweight people need to overcome when it comes to running is standing up to the mental challenge. Most people, overweight or not, shy away from running not because of a lack of physical prowess, but it's the lack of belief that does most damage. But in reality, if you can walk for 30 to 40 minutes without ending up in a hospital, then you're doubtless able to start a running program.
But what if you believed that you're not cut out to be a runner; maybe because of a genetic disposition or you're just not the type. This is a killer. As a result, starting a running program is much of a mental challenge as it is physical.
One way you can build powerful beliefs in yourself and capabilities is to visualize success all the way through.
Picture yourself AS IF you've ALREADY achieved success, and feel what it will feel like when you've lost the weight and became a true runner.
Visualization techniques have been proven to be effective at enticing the mind to behave in a predetermined pattern. And it's used by top athletes to enhance performance in all types of sports. So why not take advantage of this simple technique to get what you want.
About the author:
David DACK is a runner and an established author on weight loss, motivation and fitness.
If you want more free tips from David DACK, then go to http://runnersblueprint.com/weightlossrunning.html and for a limited time you can grab this special "Weight Loss By Running" FREE report
If you really want to Lose Weight fast and forever, this is a proven step-by-step technique that can help. You can lose up to 5 pounds each week by just following this simple report. So what are you waiting for? Click Here Now!
Make sure you also see…
NowLoss.com Created by Adrian Bryant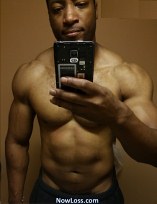 Adrian Bryant is a Body Transformation Specialist. Many People (like these here) have used NowLoss.com to Look Better Naked for free.
Even Models seek out Adrian's advice and Doctors use Adrian's unique techniques to help their patients lose weight fast and his new YouTube Channel already has over 35 Million views!
Contact Adrian Follow Adrian on FaceBook, Instagram & Twitter