Here's what 10 Celebrities do to always Look Good Naked…
Evangeline Lilly maintains a sexy body by staying active doing many activities like running, yoga, Pilates, dance, weights, scuba diving, golfing, ice

skating, canoeing, kayaking, snowboarding, rock climbing and surfing but here's her 2 top health tips for looking good… Get 8 hours of sleep and drink plenty of water (See fast weight loss tips #3 & #19)
Pamela Anderson's vegetarian diet, running, and doing Tae-Bo keeps her looking good naked.
Shania Twain maintains a healthy Vegetarian diet which makes her not crave junk food and she drinks white tea but… Shania still gets her protein from sources like cashews or yogurt and… Shania stays naturally active by enjoying power-walking and horseback riding.
Rihanna is open about the fact that she needs to diet and workout to stay in shape. Her trainer makes her eat small meals every three hours but very rarely she'll eat only once or twice a day and…

Rhianna Workouts almost everyday with a trainer and she herself admits her body is the result of "a lot of hard work and a lot of running on the treadmill" and Rhianna does lot a lot of cardio to prevent her legs from getting bulky to maintain her slim, perfectly-toned legs and even though she claims her weight fluctuates - Here's her biggest weight loss secret according to her…

"If I exercise every day for a week, I can drop several pounds but If I diet (& exercise), I see even faster results." - Rhianna

Sara Evans eats only when her stomach growls, stops a soon as she is full and she never eats any of these bad foods (see 7 rules for EZ weight loss) and… She doesn't follow any specific diet and exercise program to stay thin.

Lauren Graham eats between 1600-to-1700 calories a day to maintain her figure and she allows herself to indulge in deserts and pasta on occasion and…

She workouts with a trainer 4 days a week and during their hour-long workout sessions and her trainer keeps her heart rate at about 145 bpm.
Stacy Keibler does things like power walking & light weight training to help keep her sexy figure plus… she does lots of lunges with low weight for her legs and…

Before a show she'll do 10 minutes of warm up cardio, 45 minutes of weight training focusing on one body part per workout, and then 20 minutes of cardio to end the workout.
Ali Landry follows The Zone Diet and has said that THE FIRM workout lifted her butt, tightened the backs of her legs and helped sculpt a longer, leaner look to them.
Rebecca Romijn also went on The Zone Diet and eliminated sugar, and alcohol for six weeks plus she also worked on the elliptical machine for 45 minutes a day to maintain her model figure for the X-men movies but her best stay thin tip is…

"Order an appetizer as an entree. Order something that requires a little work like an artichoke. I try not to order things that obviously have too much fat, but also too much sodium. Soups have a lot of salt." - Rebecca Romijn

Rebecca has also done Pilates for about eight years to keep her looking good naked.
Sandra bullock eats what she wants but tries to stay away from junk food until the weekend.
To look good naked like these celebrities…
NowLoss.com Created by Adrian Bryant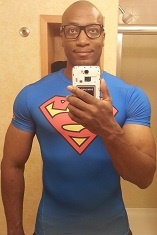 Adrian is one of the world's most sought after Body Transformation Specialist. Many People (like these here) have used NowLoss.com to Look Better Naked for free.
Even Models seek out Adrian's advice and Doctors use Adrian's unique techniques to help their patients lose weight fast and his new YouTube Channel already has over 35 Million views!
Contact Adrian Follow Adrian on FaceBook, Instagram & Twitter
Get These Free Videos…
(Offer Expires in 0:60 Seconds)
Lose 22 Pounds in 23 Days with the Emergency Diet.
How to Lose 20 Pounds in 30 days with a Bed Sheet.
How to Get a Flatter Stomach in 60 Seconds using a chair.