How To Do The Farmer's Walk…
To get a good workout with the farmer's walk…
Make sure you use a pair of heavy dumbbells and…

You want to start off Using a pair of dumbbells that are at least equal to your bodyweight so if you weigh 150 pounds - use TWO 75 lb dumbbells and if that's still too heavy - Just Use slightly lighter dumbbells and…
Try to walk at least 700 feet and probably no more than ¼ of a mile (or 1400 feet) and to make this easier for you to measure or figure out…

You are basically doing the farmer's walk only 200-to-400 yards or…
1/8-to-¼ of a mile or…
Walking up & down a football field 1-to-2 times.
A sample famer's walk workout…
Do a farmer's Walk for 200-to-400 yards (don't run but walk as fast as you can) and…
Every time you drop the weights - Rest 10-to-90 seconds between each time you drop the weights and…
Then continue doing the farmer's walk for 200-to-400 yards and…
To burn more fat & build more muscle every time you do the farmer's walk…
Try to walk the entire 200-to-400 yards faster & faster

and/or…
Try to drop the weights less & less and/or…
Try to use heavier dumbbells and/or…
Try to walk more than 400 yards and…
Keep track of all this in your log book and because the farmer's walk is so intense… You should only do the farmer's walk once a week or maybe even once every 2 weeks
Make sure you also see…
NowLoss.com Created by Adrian Bryant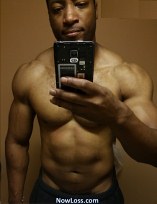 Adrian Bryant is a Body Transformation Specialist. Many People (like these here) have used NowLoss.com to Look Better Naked for free.
Even Models seek out Adrian's advice and Doctors use Adrian's unique techniques to help their patients lose weight fast and his new YouTube Channel already has over 35 Million views!
Contact Adrian Follow Adrian on FaceBook, Instagram & Twitter
Get These Free Videos…
(Offer Expires in 0:60 Seconds)
Lose 22 Pounds in 23 Days with the Emergency Diet.
How to Lose 20 Pounds in 30 days with a Bed Sheet.
How to Get a Flatter Stomach in 60 Seconds using a chair.