What are Cheat reps?
Cheat reps are what you do when you are alone when you don't have a partner to help you do forced reps and Cheat reps are usually done only with isolation exercise since it would be dangerous to attempt to do cheat reps alone with heavier compound exercises but…
When you do cheat reps - what happens is…
You cheat just a little bit by using bad form on an exercise to make you do more reps than you normally couldn't do on your own without cheating so for example…
If the most you can bicep curl on your own is 100 pounds for 5 reps and then after you've done 5 reps…
You can cheat by swinging the weight up just a little bit to make you do a few extra reps and…
If you still don't really understand what cheat reps are…
Play the video below to get a good example of me doing some extra cheat reps with bicep curls…
Cheat reps help you get stronger and bigger faster by…
Making you do more reps than you normally could but…
Once you cheat TOO MUCH or once your form is so bad that all you are doing is bouncing, swinging, or using mostly momentum to move the weight then cheat reps are no good for building extra muscle so remember…
For cheat reps to work - only cheat a little bit and because cheat reps can be very intense depending on how many extra cheat reps you do… You should probably only try to do extra cheat reps on the last set of your workouts and not on every set you do and…
Here's more examples of exercises where cheat reps would work great…
When trying to build more muscle faster with cheat reps…
Only cheat a little bit and once it gets to the point where you are cheating TOO MUCH by using only momentum to move the weight - STOP doing cheat reps because at that point cheat reps will no longer work for building muscle.
NowLoss.com Created by Adrian Bryant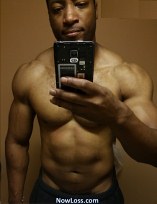 Adrian Bryant is a Body Transformation Specialist. Many People (like these here) have used NowLoss.com to Look Better Naked for free.
Even Models seek out Adrian's advice and Doctors use Adrian's unique techniques to help their patients lose weight fast and his new YouTube Channel already has over 35 Million views!
Contact Adrian Follow Adrian on FaceBook, Instagram & Twitter